William Lafayette Kilpatric
and
Mary Hannah Jane Wilson
and
Maude Agusta Blakely
---
Return to Genealogy Home Page Return to Israel's and Mielda's page
---
These photos and this family's story were sent to me by Cousin Wanda Lou Kilpatric Slack.
Write to her at wandaslack@earthlink.net. Thank you for a wonderful tribute, Wanda! --John Gwin
---
This historical documentation is directed to the immediate family anddescendants of William Lafayette "Bose" Kilpatric (nee Kilpatrick);his first wife Mary Hannah Jane Wilson; their sonAlva WilsonKilpatricanddaughter Lillian Agnes "Lily" Kilpatric Lindsay; his second wifeMaudeAgusta Blakely and childrenRobert Kilpatric,Hattie MaeKilpatric, and Hugh Kilpatric; and his grandchildren and great-grandchildren. --Wanda Lou Kilpatric Slack, William and Mary's great-granddaughter
---
Chapter I
William Lafayette and Mary's story begins in Lincoln County, Tennessee, where William and Mary were married on September 3, 1879, in Fayetteville.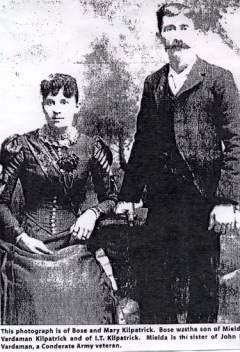 Newlyweds William Lafayette "Bose" Kilpatric, 22, son of Israel Thomas Kilpatrick and MiEldah Vardaman, and Mary Hannah Wilson, 14, daughter of Riley Wilson and Jane C. Wilson of Fayetteville, Tennessee, pose for a wedding picture. Published later elsewhere, the caption, illegible here, reads, "This photograph is of Bose and Mary Kilpatrick. Bose was the son of Mielda Vardaman Kilpatrick and of I. T. Kilpatrick. Mielda is the sister of John F. Vardaman, a Confederate Army veteran." For reasons unknown to this writer, Bose and his older brother Thomas dropped the final K from their last name.
William and Mary become owners of a 500-acre parcel of cleared, excellent farmland. Following is an excerpt from an article published in the Godspeed Historical Accounting of persons' holdings in Lincoln County, Tennessee:
W. L. Kilpatric, a merchant of Fayetteville, and farmer, living two miles south of that village, was born in South Alabama, October 20,1857, son of Israel Thomas and Mielda Vardaman Kilpatrick. The father was born in South Carolina in 1818 of Irish lineage. He moved to Georgia when a youth, was married there, moved to Alabama, and thence to Lincoln County, Tennessee, in 1883 where he located and now resides. The mother was born in Georgia in 1827 and died in January 1884. Our subject received his education in the various schools of Alabama. In 1879 he married Mary Wilson, a native of Lincoln County, born May 1, 1865, and the daughter of Mathew T. and Jane C. Wilson. By this union our subject became the father of one child--Alva Wilson. After marriage our subject located on the farm where they have since resided. He now owns over 500 acres of excellent land well improved. In 1883 he and his brother, Thomas Butler Kilpatrick, engaged in the mercantile business at Fayetteville. In 1885, he purchased his brother's interest, and took another partner, T. I. McCowan, and now does business under the name of Kilpatric & Company. They have been very successful in the sale of dry goods, clothing, etc. Mr. Kilpatric is a Democrat in politics and cast his first Presidential vote for Grover Cleveland. The Kilpatrics are Presbyterians. James Edwy Kilpatrick, brother of William Lafayette, was in the Civil War, enlisting in 1864 when but seventeen years of age. He was taken prisoner by the Union army and was confined in Mississippi until the war ended where was paroled in 1865.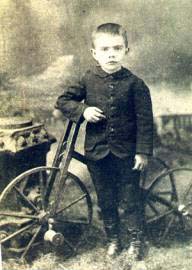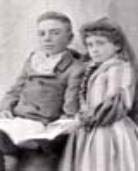 On June 7, 1880, their son Alva Wilson Kilpatric was born, shown left at age three. William worked the farm and it was soon prosperous. He and his older brother, Thomas Butler Kilpatric, opened a Mercantile Store in Fayetteville. The Kilpatric family continued to prosper, and Mary seemed content overseeing their young frisky son Alva, shown (right) in 1892 at age 12 with his sister Lillian Agnes 'Lily' Kilpatric, age 7, born in 1884.

The William Kilpatric family was working the farm with hired help and living a prosperous life. The Kilpatric Mercantile engaged Fayetteville with a bounty of selected merchandise.

May 17, 1885, William and Mary's third child, a daughter, was stillborn.

---
Chapter II
The death in 1898 of Thomas' wife, Rena E. Pitts, was unexpected and devastating to Thomas. He decided to leave Fayetteville with his young son William Seay Kilpatric and see what chances he would have in a place called West Plains, Missouri.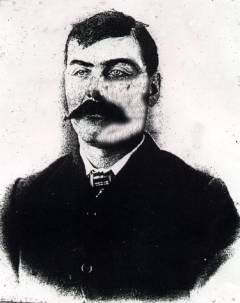 Meanwhile the household of the William Kilpatrics erupted into disillusionment. Mary had taken up with one of the farm hands, John Mosby Fulton. Fulton had pursued her even though she was a married woman. Mary fell into his ways and betrayed William, who was unable to understand Mary's infidelity. Heartbroken and spiritless, he left Fayetteville and went to West Plains, Missouri, to seek consolation from his brother Thomas, taking Alva Wilson, twelve, with him. Mary would not let him take seven-year-old Lillian. William, right, immediately began procedures to divorce Mary and seek custody of Lillian Agnes. But Mary took her away and hid her until William L. finally just got the divorce, which was an ugly, bitter fight. In the end, Mary won the farm and Lillie. William kept Alva Wilson in West Plains. The divorce was final in 1893.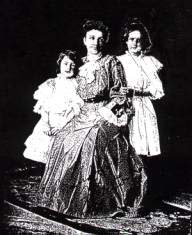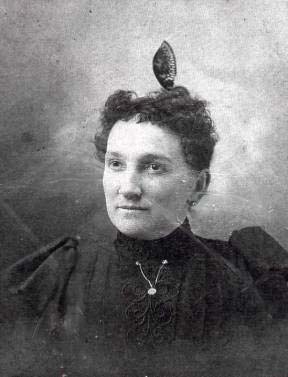 Mary, right, married John Mosby Fulton. They remained in Fayetteville and raised their family. They had two daughters, Orlean Fulton and Frances Fulton (pictured left with Mary), and one son, James Mosby Fulton.
Orlean married a man named Sullivan, and Frances married a man named Workman. Whether or not James married is unknown.
[Before Mary's infidelity, I believe the marriage was set up by her mother, Jane Wilson. Mary had had several guardians, and I believe that Jane, Mary's mother, had found William Lafayette to marry her daughter and help release her from under the wings of these guardians. I know there had been a court battle. Mary inherited the Wilson money and holdings with the assistance of Mary's mother Jane and her husband William Lafayette Kilpatric. Who knows what drove Mary into the arms of John Mosby Fulton? She was a young, inexperienced woman, and while her husband Kilpatric worked away from the home, did Mr. Fulton just move in? Remember Mary had only been 14 years old when she was married to William, who was a religious and strict man. --Wanda]
She was loved by her children and grandchildren.
Mary and John both died in the year (1940 or 1950) in Fayetteville, Tennessee, she in May and he in August. They are buried near there at the Lebanon Cemetery.
---
Chapter III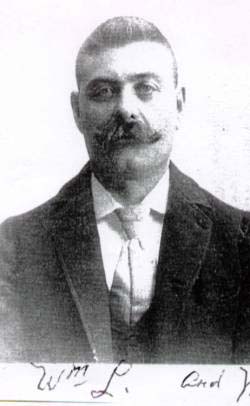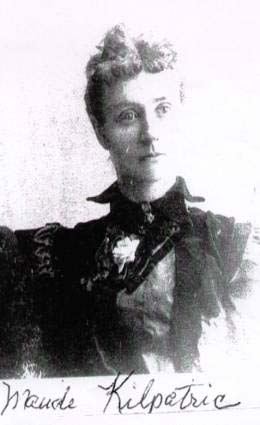 William worked for his brother Thomas and soon owned a share of Thomas' business. While working in their store, he met a young woman named Maude Agusta Blakely. Maude was a traveling saleslady selling pharmaceuticals. She was 15 years William's junior, but the Kilpatric charm had its winning ways. He and Maude were married at the St. Louis State Fair in 1895. (More details will be forthcoming from his granddaughter Beverly Westfall in Washington.) The articles below are from the research of Phyllis Rosalie Kilpatric Noirfalise, daughter of Ralph Weatherford and Myrtle Florence Sass.
West Plains Gazette
July 4, 1895

T. B. Kilpatric has made some recent purchases that will go far towards keeping up the reputation of the House of Bargains.

West Plains Gazette
July 11, 1895

T. B. Kilpatric, one of our best and busiest merchants, and who is always on the alert for bargains for his customers, has bought the stock of Ferguson and Lucas, who recently failed at Willow Springs, and is offering it at prices that are bound to bring buyers.
William saved his money, and in this time period he decided to buy and open this beautiful Mercantile Store in Willow Springs, Missouri, a thriving small town about 15 miles northwest of West Plains. We don't have the exact date that William opened his impressive-looking place in Willow Springs, but it was perhaps some time between 1895 and 1899. The man in the driver's seat is William's son Alva Wilson Kilpatric. William is the man on the street filling a bag with merchandise. His store failed, and I think it may have had to do with something about the money left in Fayetteville, Tennessee, when he left Mary and sought divorce in Missouri.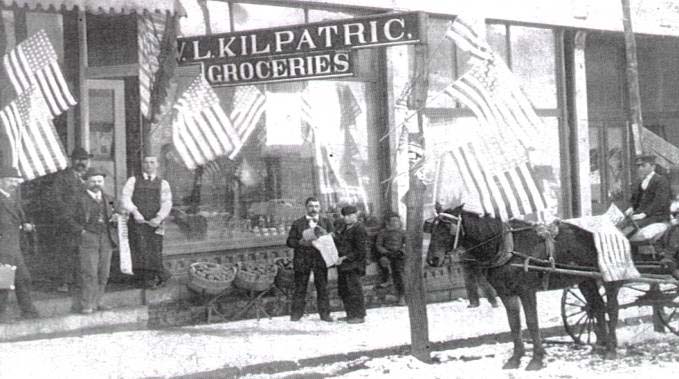 Howell County News
August 30, 1895
Willie Kilpatric returned a few days ago from a visit withrelatives in Tennessee.
Howell County News
December 20, 1895
William Lafayette Kilpatric, apparently one of the most successful businessmen of Willow Springs, has been forced to suspend, and his brother,Thomas Butler of West Plains, Missouri, has taken charge of the mercantile stock under a chattel mortgage. This failure was a surprise to the business community and to the friends of the unfortunate merchant, and it is generally hoped that he may recover from his reverses and start anew.
---

Born in Fayetteville, Tennessee, in 1880, Alva attended school both in West Plains and Willow Springs, deciding to make the latter his home. At top right here, he and his friends enjoyed the country life around Willow Springs.



[I believe this gang all went into the Spanish American War together; Alva brought an antique bottle of beer, which I now have, home from Cuba as a keepsake. I am the hunter of the Kilpatric clan of which we are ten, still all living, whom I shall list later. --Wanda]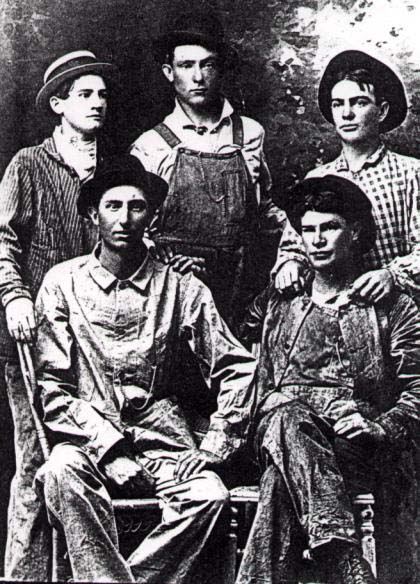 West Plains Newspaper Real Estate Transfers filed Jan. 23, 1897.
(I copied information from legal document. --Wanda)
James B. Milum, single, to J. E. Kilpatrick, warranty, 49-75 south half of se qr of se gr see 30, twp 27, r9.

[Note: James E. Kilpatric is the son of Israel Thomas and Mielda Vardaman Kilpatric. James' whereabouts are still unknown as of March 4, 1999. We feel he might be buried in Louisville, Texas. --Wanda]



Howell County Gazette
December 23, 1898

Howell County Gazette
December 30, 1898
Miss Hollenbeck and Miss Weatherford of Willow Springs are visiting friends in this City.
Howell County Gazette
December 30, 1898
Misses Lou Hollenbeck and Peach Weatherford, of Willow Springs, after spending Christmas in our City, returned to their homes last evening.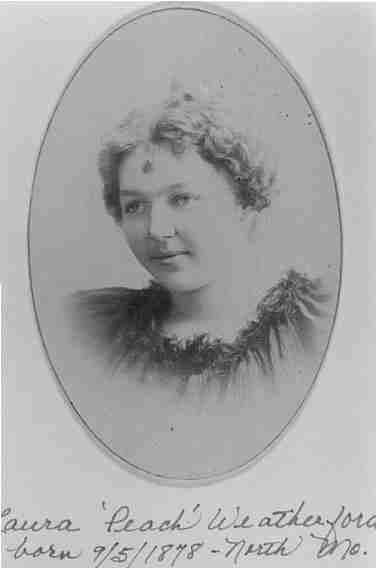 This picture was taken before she married Alva Wilson Kilpatric in 1900. Laura Edwin Weatherford was the daughter of Lewis Edwin Weatherford and Sallie Ann Landrum of Montgomery City, Missouri.



[Woodrow Wilson Kilpatric, son of Alva and Laura told me, "Wanda Lou, Laura named herself and called herself 'Peach' until they gave her the name Laura Edwin Weatherford." Quaint? Yes, that's our "Peach"! Her parents didn't give her a name--just called her "Peach". That was all I heard when I was a little girl, Peach this, Peach that. I wondered, "Who is Peach?" Well, Peach was my grandmother, the mother of my father Ralph Weatherford Kilpatric. Her name is Laura Edwin Weatherford Kilpatric, and she married my grandfather, Alva Wilson Kilpatric. Peach named herself--Laura Edwin, the Edwin being her father's middle name--Lewis Edwin Weatherford, born in Halifax, Virginia, son of Charles Buchanon Weatherford and Patience Nunnellee. (This picture with her friend was taken before her marriage, and the Weatherford home was just across the street from the Christian Church (visible in thebackground?). This Christian Church still stands, and Grandmother"Peach"'s last rites were in the church in 1950 when she passed on!) The Weatherford-Kilpatric home was moved about 10 miles south toward West Plains, Missouri. I used to be able to remember where it was, but it has been so remodeled that I don't know anymore. Maybe they tore it down! Anyway, that's a bit more about Peach--a very societal young lady about Willow Springs and much loved by her parents. --Wanda]




---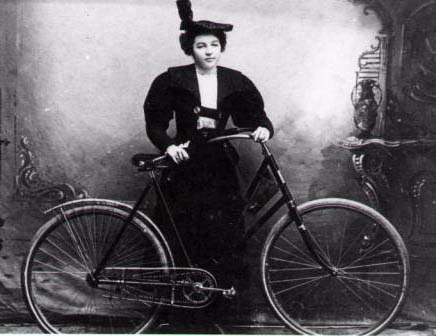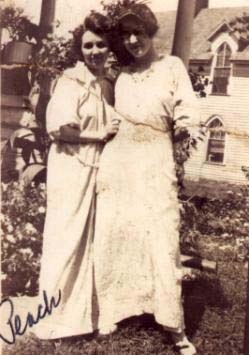 P........
..E......
....A....
......C..
........H
Miss Laura Edwin 'Peach' Weatherford was indeed a socialite and spoiled young lady. She did give Alva Wilson seven beautiful children.

[We have two left--my dad's sister Lorene Richards, age 95, living in Mountain Grove, Missouri, and his baby brother Woodrow Wilson Kilpatric living in Anderson, California, near Redding, where three of my brothers live. He is 85. --Wanda]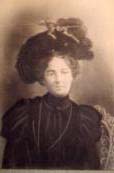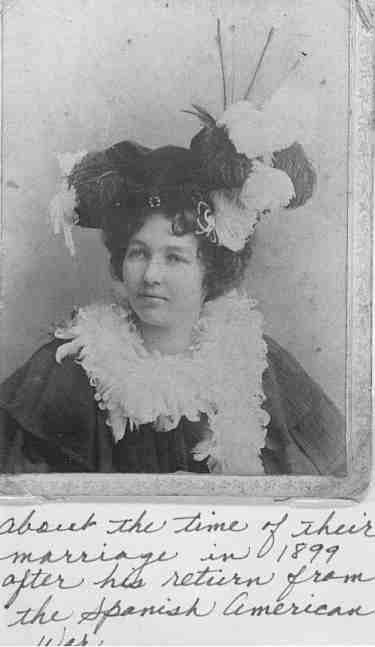 Laura Edwin Weatherford in 1896 (left). At right, the caption reads, "about the time of their marriage in 1899 after his return from the Spanish American War." Her brother John Weatherford had died at the age of 25 with consumption. John is buried in City Cemetery, Willow Springs, Missouri. Laura also had an older sister Lelia Weatherford. Lelia married A. Widick, and they had three children.

[I'll add their names later. --Wanda]
Howell County Gazette
December 30, 1898
Four trainloads of army equipment belonging to the regular army, on its way back from Cuba, passed through this City this morning en-route to Fort Leavenworth, Kansas. One of the officers carried a Cuban machete as a souvenir of this Cuban experience. The soldiers looked worn and tired and were glad to get back home.

Alva Wilson Kilpatric, seated first row far left, served in the Spanish American War in Cuba. He was with the 6th Cavalry Division. Alva was the son of William Lafayette and Mary Hannah Wilson Kilpatric.

---