---
Return to Genealogy Home Page Return to Robert G. Lochridge's and Mary Ann Elizabeth Gwin's page
---
SOURCES: My second cousin Jack Vardaman and I took these photos (unless marked otherwise) in Jan 2002 while touring family sites in eastern Alabama. Jack also found for me, in Talladega Co., Alabama, Marriages Book E, page 508, this copy of Robert and Amanda Lochridge's marriage license. Neither of us has been able to locate the date of death or the gravesite of Robert's first wife, Mary Ann Elizabeth Gwin.
---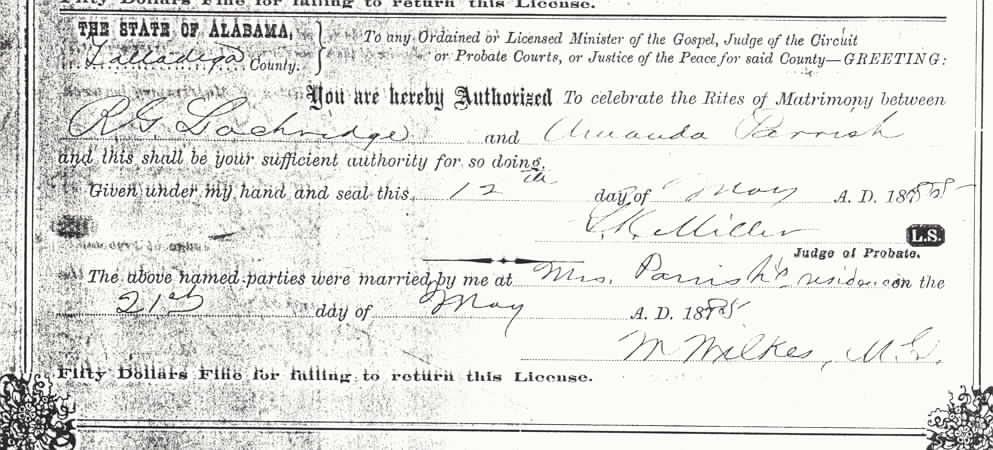 THE STATE OF ALABAMA, Talladega County. To any Ordained or Licensed Minister of the Gospel, Judge of the Circuit or Probate Courts, or Justice of the Peace for said County--GREETING:

You are hereby Authorized To celebrate the Rites of Matrimony between R. G. Lochridge and Amanda Parrish and this shall be your sufficient authority for so doing.

Given under my hand and seal this 12th day of May A.D. 1885. L. K. Miller, L.S., Judge of Probate.

---

The above named parties were married by me at Mrs. Parrish's residence on the 21st day of May A.D. 1885. M. Wilkes, M. G.

Fifty Dollars Fine for failing to return this License.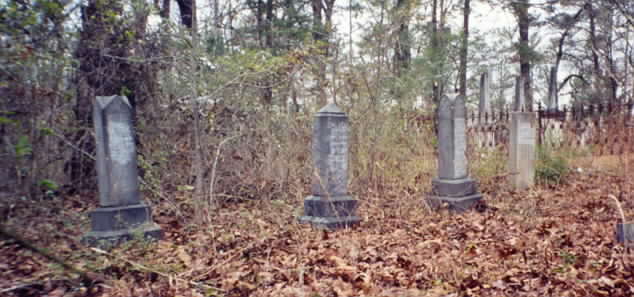 The Lochridge section of the Hill Family Cemetery is located at the far south end of the cemetery and faces south toward County Road 8. From Sylacauga, Alabama, at the downtown intersection of Co. Rd. 8 and U.S. 231, take Co. Rd. 8 toward Fayetteville for about three miles, turning right (north) on Co. Rd. 34. The cemetery is atop the first hill a few hundred feet up Rt. 34 on the right. Buried here are Robert Guy Lochridge, his second wife Amanda Parrish (it is unknown to Jack or me whether this is her maiden name or her name by a former marriage); and two children, the first of whom, James I. Lochridge, is the third child of Robert and his first wife, Mary Ann Elizabeth Gwin, and the second of whom, May Lochridge, is the daughter of Robert and Amanda and not related to me.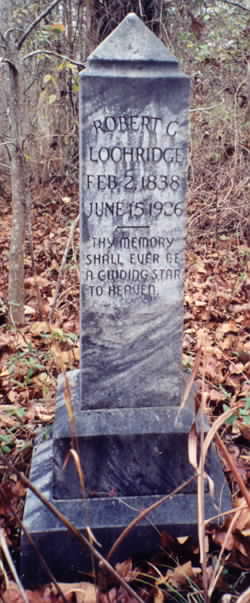 ROBERT G. LOCHRIDGE
FEB. 2, 1838
JUNE 15, 1926
----
THY MEMORY
SHALL EVER BE
A GUIDING STAR
TO HEAVEN.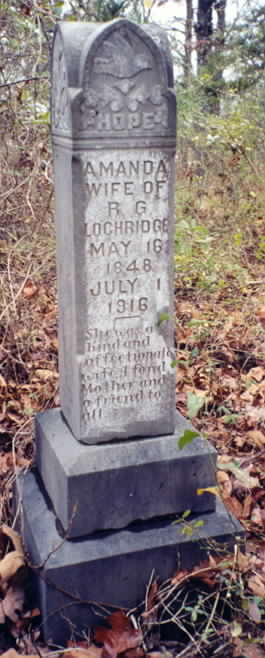 HOPE
----
AMANDA
WIFE OF
R.G. LOCHRIDGE
MAY 16, 1848
JULY 1, 1916
----
She was a kind and affectionate wife,
a fond mother, and a friend to all.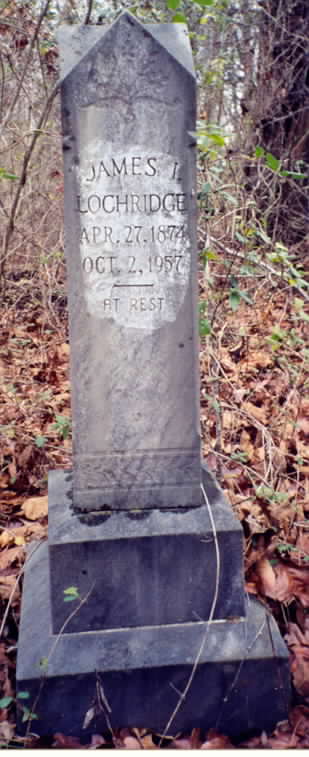 JAMES I. LOCHRIDGE
APR. 27, 1874
OCT. 2, 1957
----
AT REST
MAY
LOCHRIDGE
MAY 12, 1887
JUNE 5, 1976